Detroit Diesel engines are very popular among the world's leading manufacturers of trucks and cars, construction machinery, power and oil and gas equipment, etc.
DDDL 8.09 SP2 supports DDEC 6 through GHG17 engine platforms. There are two editions of DiagnosticLink. 
The standard edition replaces DDDL 7.x. The professional edition replaces DDRS 7.x.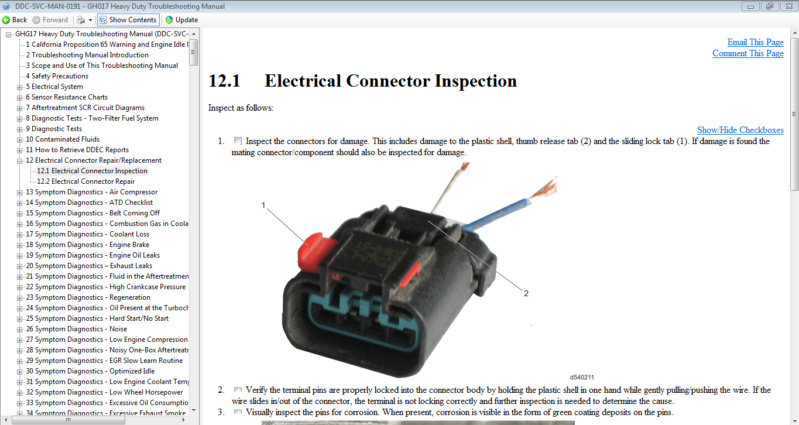 Detroit Diesel DiagnosticLink 8.09 SP2 Professional provides ECU information, diagnostic fault codes, instrumentation information, service routines, the ability to run system tests, edit ECU parameters, and the ability to reprogram engine controllers. The legacy tools DDDL 6.x and DRS 6.x are included.
Access levels:
Read 10
Write 10
Hardware 10
DiagnosticLink 8.0x Features:
Vehicle ECU software compatibility checking
Vehicle ECU Instrumentation and I / O control troubleshooting panels
Vehicle ECU Identification and Fault Code display
Display detected equipment in a user interface
New I / O control view reduces the number of tabs shown
The new display of Program Device settings
New VIM Throttle Panel for testing GHG14
ECUs Supported:
EPA07 - DD15, DD13, DD16, S60, MBE900, MBE4000
EPA10 - DD13, DD15, DD16
GHG14 - DD13, DD15, DD16, DT12 Transmission
Freightliner cascadia
Western Star 5700XE
System Requirements:
DiagnosticLink 8.0x is Windows 10 compatible:
DiagnosticLink 8 and legacy tools (DRS 6.30 and DDDL 6.50) are Windows 10 32-bit and 64-bit compatible.
Windows Vista SP2, Windows 7, Windows 8, 8.1, Windows 10 (32 & 64 bit)
2.0 GHz Dual Core Processor or faster
2.0 GB RAM or more
40 GB Hard drive with 20 Gigabyte free
Monitor and graphics card supporting 1024 x 768 resolution and 16-bit color
High Speed ​​or Broadband Internet connection
IT Security Firewall Access for TCP Port 48481
Price in PM
is this better than one i downloaded? highest level only 3 in version i got?

rob her




Posts

: 2


Registration date

: 2019-08-31


Location

: chicago il



rob her wrote:is this better than one i downloaded? highest level only 3 in version i got?
Yes, that's read/write/hardware 10 level
Thank you very much Cristi
DDDL 8.09 Installs and Works perfectly
Videos explain how to install step by step

OldSoldierTrucker




Posts

: 4


Registration date

: 2019-03-01


Location

: South Carolina



cristi-obd2 wrote:

Detroit Diesel engines are very popular among the world's leading manufacturers of trucks and cars, construction machinery, power and oil and gas equipment, etc.




DDDL 8.09 SP2 supports DDEC 6 through GHG17 engine platforms. There are two editions of DiagnosticLink. 


The standard edition replaces DDDL 7.x. The professional edition replaces DDRS 7.x. 


Detroit Diesel DiagnosticLink 8.09 SP2 Professional provides ECU information, diagnostic fault codes, instrumentation information, service routines, the ability to run system tests, edit ECU parameters, and the ability to reprogram engine controllers. The legacy tools DDDL 6.x and DRS 6.x are included.

Access levels:

Read 10

Write 10

Hardware 10

DiagnosticLink 8.0x Features:

Vehicle ECU software compatibility checking

Vehicle ECU Instrumentation and I / O control troubleshooting panels

Vehicle ECU Identification and Fault Code display

Display detected equipment in a user interface

New I / O control view reduces the number of tabs shown

The new display of Program Device settings

New VIM Throttle Panel for testing GHG14

ECUs Supported:

EPA07 - DD15, DD13, DD16, S60, MBE900, MBE4000

EPA10 - DD13, DD15, DD16

GHG14 - DD13, DD15, DD16, DT12 Transmission

Freightliner cascadia

Western Star 5700XE

System Requirements:

DiagnosticLink 8.0x is Windows 10 compatible:

DiagnosticLink 8 and legacy tools (DRS 6.30 and DDDL 6.50) are Windows 10 32-bit and 64-bit compatible.

Windows Vista SP2, Windows 7, Windows 8, 8.1, Windows 10 (32 & 64 bit)

2.0 GHz Dual Core Processor or faster

2.0 GB RAM or more

40 GB Hard drive with 20 Gigabyte free

Monitor and graphics card supporting 1024 x 768 resolution and 16-bit color

High Speed ​​or Broadband Internet connection

IT Security Firewall Access for TCP Port 48481

Price in PM

CreazyCuban




Posts

: 1


Registration date

: 2021-02-04


Location

: United States



---
Permissions in this forum:
You
cannot
reply to topics in this forum